May 10, 2017
**Update** – the winners of the Carnival of Venice Slot machine have been credited. List of winners can be found on this facebook post.
Yippee – more new slots are available for you at BingoMania.com and more to come your way in the days to follow.
So far, we've featured the two exciting machines: Sugar Rush and Forest Treasure slots and this week, we've got the spotlight on the 20-line Carnival of Venice Slot machine with a chance to win 1 x 20 $10 free credits (see below for details).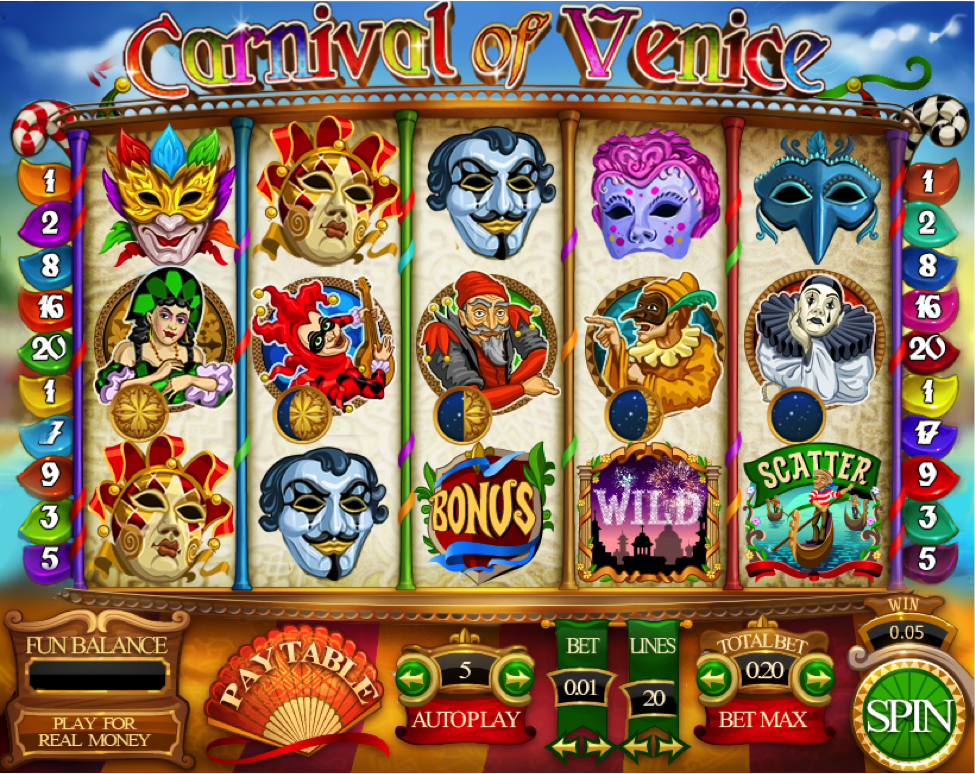 About Carnival of Venice Slot Machine
Inspired by the annual Venice Festival in Italy, this gorgeous 5-reel, the 20-line video slot has all the excitement you'll love. You can discover the city by night on an active pay-line to see it's WILD side.
Or, engage 3 gondoliers anywhere on the reels, and you'll be spoiled with 30 free spins. Plus, with the bonus round, you have the chance to unmask up to 6,710 Bonus Points.
We think you're going to love this new machine at BingoMania. Below, you'll find more info about this exciting game.
How to Access the Game:
Click on "slots"
Then select "new" and look for the new Carnival of Venice image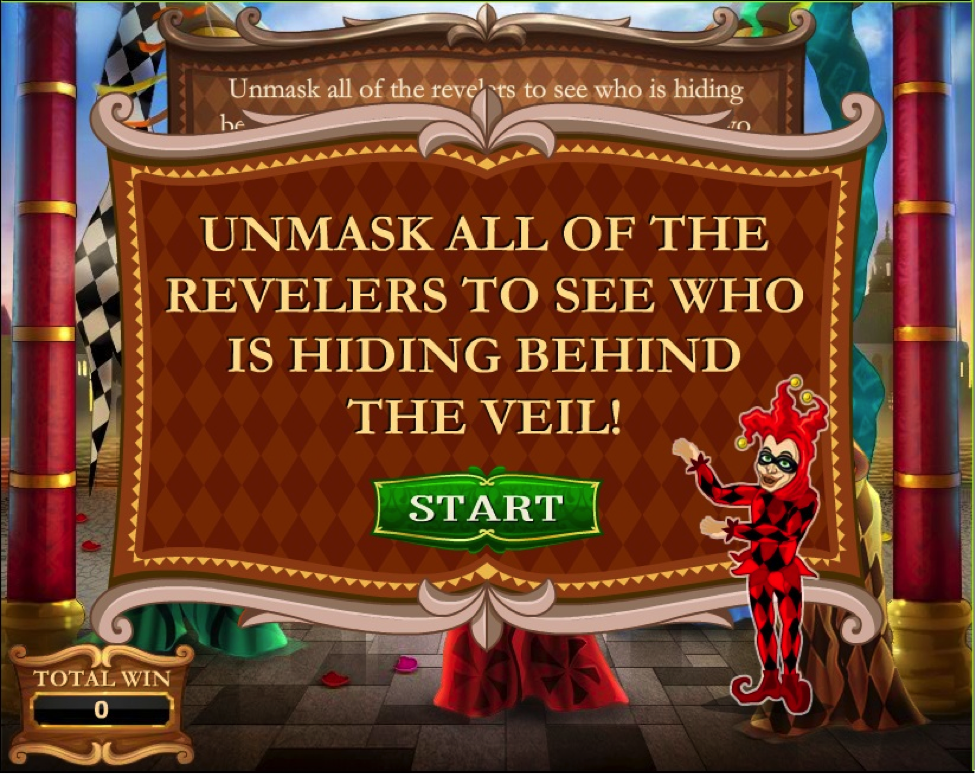 Figure 2: Bonus game intro "UNMASK ALL OF THE REVELERS TO SEE WHO IS HIDING BEHIND THE VEIL!"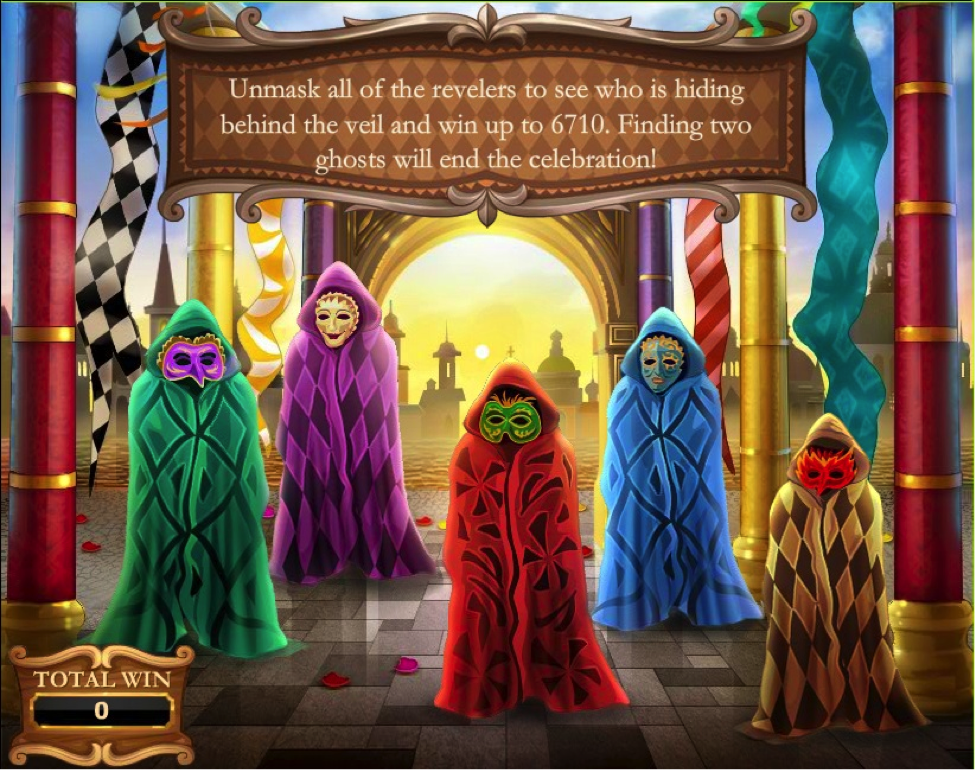 Figure 3: Bonus game "Unmask all of the revelers to see who is hiding behind the veil and win up to 6710. Finding two ghosts will end the celebration".
Overview
| | |
| --- | --- |
| Reels | 5 |
| Symbols | 13 |
| Paylines | 20 |
| Bet per Payline (minimum) | 0.01 $ |
| Max Bet per Payline | 5.00 $ |
| Progressive | No |
| Wild Symbol | Yes |
| Paid Scatter | No |
| Free Spins Feature | Yes |
| Bonus Feature | Yes |
| Stop Feature | Yes |
Feature Type
Bonus Rule – Three or more bonus symbols on any active pay-line trigger the "Unmask the Revelers" bonus game.
Bonus logic – User selects any of the 5 masked silhouettes that he is presented with to unmask them and find either one carnival participant or a an empty robe.
Carnival participants have a value behind them while empty robes count as "fails"
Game ends when player has found 2 "fails"
Winning range 50 – 6710 Bonus Points
Table : Bonus Game Information
| | |
| --- | --- |
| Feature Type | Free spins |
| Number of Free Spins | Depending on number of scatter symbols |
| Multiplier | 3 Scatter symbols give 7 x Free Spins4 Scatter symbols give 15 x Free Spins5 Scatter symbols give 30 x Free Spins |
Pay Table

Bet Info
| | |
| --- | --- |
| Bet | Range from 0.01 to 5.00$ |
| Default Bet | 0.01$ |
| Max Bet | 20 Lines x 5.00 $ Per line = 100.00 $ |
| Min Bet | 1 Line x 0.01 $ = 0.01 $ |
| Default Bet | 20 Lines x 0.01 $ = 0.20 $ |
| Bonus Game Winning Amount ($) | Bonus Points x Bet per line |
Unlock 1 x 20 $10 free credits
Like this post by clicking on the "like" button above -and-
Commenting below with your BingoMania aliasWinner's will be randomly selected on Tuesday by 12pm EST