Bingo Pals

Last month 522 BingoMania players received a total of $34,840 in BingoPals Rewards. Now it's your turn.
Win More Often With Your BingoPals
When your bingo friends win, you win too. Reap the ongoing rewards.
We believe you deserve more chances to win when playing your favourite bingo and casino games online. Now, you immediately get more chances to win extra prizes through the all new referral program "BingoPals", where you get rewarded when your friends win.
*Invite as many friends as you like to BingoMania – there is no limit.
As long as you have made 1 or more deposit in the last 30 days, everytime one of your BingoPals wins $25 or more, you win too, up to $1,000 in extra free bonus !
We Reward Your Bingo Friends Too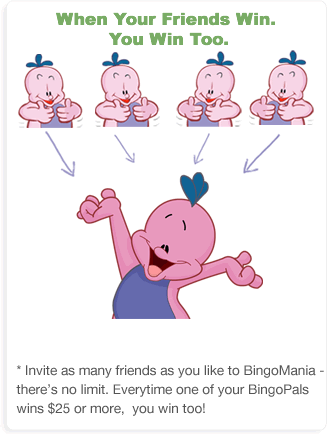 To ensure that your friends have the best time, we also pamper them with tons of goodies.
---
Rules:
1. In order to qualify for the $20 BingoPal referral cash prize, the person you have referred must have made a deposit of $25 or more on BingoMania.com before the $20 cash prize is awarded to you. When a player who you refer registers and deposits on Bingo Mania and you are named as their BingoPal, you will automatically qualify for a BingoPal bonus.
So when they win, you win too.
When your friend joins, and deposits $20 or more, you'll receive $20 CASH
Every time they win $25 or more in Bingo you win a $2 BingoPals bonus
Every time they win $25 or more in any other game, you win $1 BingoPals Bonus
If they win a $100 + progressive jackpot jackpot you win a $10 BingoPals Bonus
If they win a $500+ progressive jackpot you win a $50 BingoPals Bonus
If they win a $1000+ progressive jackpot you win a $100 BingoPals bonus
You can earn up to $1,000 bonus from each BingoPal
In addition, to ensure your friends have the best time, we also pamper them with reciprocal bonus for 30 days from the day they make their first deposit on your wins. So when you win, they win too.
2. You can invite as many people as you wish to be your BingoPals
3. All players you have referred to BingoMania as your bingo buddy will be transferred to your BingoPals
4. If the person you invited doesn't name you as their BingoPal when they register, unfortunately we cannot award you the BingoPals prize.
6. You cannot change your BingoPals, even if they have stopped playing on Bingo Mania. But you can always invite more players to join you at Bingo Mania.
7. From the launch of the BingoPals on October 16th, 2012, any player who has referred previous players to Bingo Mania will be updated as your BingoPal.
8. Players will get the BingoPals referral cash/bonus prizes as long as their friend correctly entered their user name at time of registration. You can view your BingoPal or see who you are a BingoPal for by logging into Bingo Mania and go to My Account then click on BingoPals.
9. You will be able to monitor your BingoPals credits via My Account / BingoPals.
10. No two or more players can have the same BingoPal
11. You can be the BingoPal for many people and if any of them win, you will win a BingoPals bonus.
12. As with all bonus money, BingoPals bonus money cannot be withdrawn and cannot be used to play Casino Games at Bingo Mania at this time.
13. No bonus money will be awarded as a result of chat games won, free cash draws, random draws, contests where the prize was determined by participation
14. Players who abuse the use of chat as a way of encouraging or harass other players to add them as a BingoPal can have their chat facility removed.
15. To continue to receive BingoPal bonuses from the wins of your referred friends, you must be an active player. Active player is defined as one that has made 1 or more deposit in the last 30 days.
16. You'll be rewarded for up to 1 year in Bingo Pals bonus. That means, for every friend you refer, for an entire year after their registration date, you'll continue to receive cash/bonus prizes each time they win.
17. Bingo Mania reserves the right to cancel and update the terms and conditions of the BingoPal Bonus at anytime. But we will always inform you in advance of any changes planned.