May 10, 2017
Looking for Bingo Mania Free Bonus Codes?
You won't be able to find them.
What?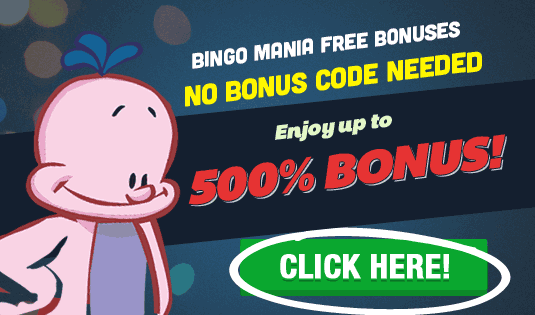 Let us explain, unlike other online sites where you can find free bonus codes hidden across the web, a while back, we decided we will offer our best promos upfront to all welcoming players without the need for any silly bonus codes.
That means, as a new player, you can rest assured you'll receive the bingo promos directly from BingoMania.com
Our current bonus offers for newbies are as follow:
$5 free welcome bonus which allows you to try a couple of games before making a deposit
500% free bonus on your 1st deposit (that's a minimum $100 free bonus)
Then, you can enjoy further bonuses as you continue to play at Mania:
a minimum of 100% on all your future deposits with special 500% free bonus events
20% loyalty cash-back on Tuesdays
Surprise bonus giveaways
Daily special chat games where you can unlock more free bonuses
As we've been known to highlight, free bonuses alone are not what creates an enjoyable bingo online experience. We believe good value bonuses combined with exciting prizes are the ideal recipe for the best in bingo experience.
We hope these posts saves you time in the search of Bingo Mania free bonus codes and allows you to jump right into the exciting games available for you on our site.
Have a fantastic day and happy playing!