Star Levels
How do I get XPs to level up?
Every time you play bingo, slots, video poker or any other game at BingoMania* you will receive Experience Points (XPs) to level up. The higher your star level, the higher the rewards!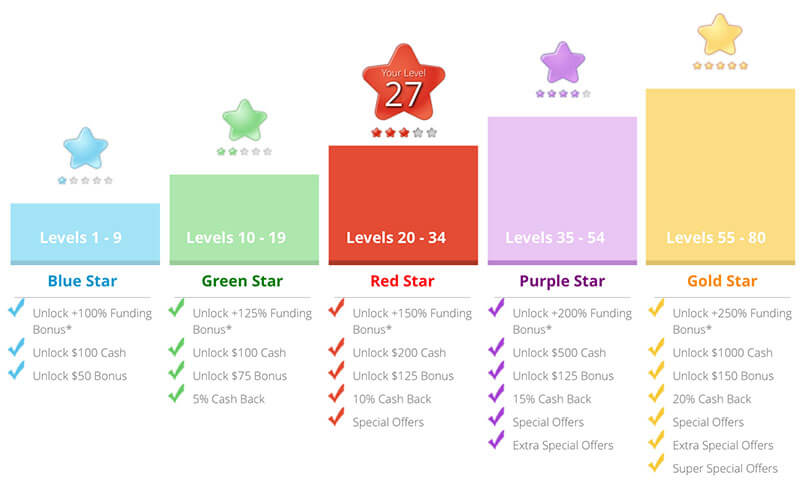 For every $1 played in bingo you will receive 10 XPs.
For every $1 played in slots you will receive 1 XPs.
For every $1 played in video poker, keno, Blackjack & scratchcards you will receive 1 XP.
Experience points will not be awarded on the roulette games.
Players who are inactive more than 30 consecutive days will drop down an entire star level. For example, if you are inactive and were a level 30 (yellow star) player, your star level will drop to Green.
You will receive XP points when wagering both cash and bonuses.
For the launch of the rewards program Cash and Bonus wagers award the same XPs. This is a limited time special as bonus wagers will award less XPs in the future.
The 5%-20% cash-back bonus is awarded on Tuesdays to qualifying players who have not requested a withdrawal the previous week (Sunday-Monday). The Cash Back Bonus is based on the total deposits made the previous week and awarded accordingly depending on a player's Star Level.
* The extra free funding bonus you'll receive on top of the daily funding bonus.