Free Bingo
Special Christmas Edition Daily Free Bingo Games
In addition to the Tuesday, Thursday, and Sunday free bingo games (see below), enjoy $4,000 in Daily Free Bingo Games throughout December.
Log in daily from Dec 2 – Dec 26 and scoop up some free bingo prizes in all your favorite bingo rooms!
$25 Free Bingo Game in the Nut House Bingo room @6pm ET

$25 Free Bingo Game in the B90 Nick Nacks room @7pm ET

$50 Free Bingo Game in the Money Pot Bingo room @8pm ET

$50 Free Bingo Game in the Holiday Bingo room @9pm ET
Don't forget to look out for more bingo specials in addition to the free bingo games!
---
Tuesday, Thursday, & Sunday Free Bingo Games
All New $10,000 Free Bingo Giveaway Tuesdays, Thursdays & Sundays this month only at BingoMania. Bingo Mania loves spoiling you with fun filled specials like our real cash free bingo games.
To give you more "wow" – we are extending the special Thursday & Sunday free bingo sessions to Tuesdays, Thursdays, and Sundays this month for you … in total, there will be over $10,000 in cash prizes up for grabs!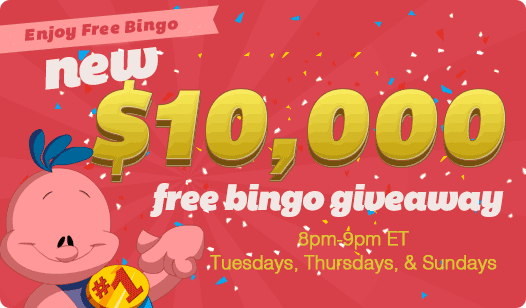 When: Tuesdays, Thursdays, and Sundays from 8pm to 9pm ET
Duration: 1hr of Free Bingo Games
Room: the Party Room
Prizes: From $5 to $100
Non Funding Players: $5/$10 free cash
Funded in past month: $25 free cash
Funded on the day of the free event BUT before the free bingo games play: $100 free
How to Play
Everyone is welcome and it will be real cash free bingo games. So don't be shy, this will be a great venue to interact and mingle with other Bingo Maniacs.
Be sure to login to the 10k Free Bingo Room on Tuesdays, Thursdays. and Sundays
The room will be open and 1hr of games will take place starting at 8pm ET sharp that's 5pm PT
The Game Prize
There will be about 8 games during the 1hr event. The amount you win will depend on the type of player you are:
$5/$10 if you have NEVER made a deposit
$25 if you made a deposit in the last month.
$100 if you have made a deposit that day
The winner of each game will be credited $5/$10 for the game. After all games have played, we will adjust your balance accordingly based on the above player criteria.
---
Rules:
Q: Can I pre-buy for these free bingo games?
A: You cannot pre-buy for the free bingo games. Sorry
Q: Are these real cash prizes?
A: Yes.You'll win real cash prizes.
Q: Can I cash out my winnings?
A: Same payout rules apply. So if you meet the payout requirements, you may.
Q: Why is BingoMania doing this?
A: Because we're Maniacs and love treating you with superb specials

Do you have any additional Questions?
We're here to help. You may reach us by email at [email protected] or using the Live IM on the bottom right hand side of this page or via the help desk
Have fun and good luck!
About Free Bingo Games
There are tons of sites today that offer free games from Facebook to Pogo Bingo – though these games do not cost money to play, you do not get to win cash prizes either. We plan to offer you a different experience at Mania, where you can play free games with real cash prizes but at no cost to you.
As long as you have a BingoMania.com account, you can login on the above special days and enjoy these complimentary games on us with a chance to walk away some fun cash prizes.
Though you won't find life changing prizes for free yet, you still have a great opportunity to win reasonable pots at no cost.
The way these games play are simple – every player who logs in, will receive 12 cards in the 75 ball Party room.
These games will consist of fun and popular patterns that already play in your favorite rooms.
You just have to login, auto-daub or manual daub while your numbers are called.
If you Bingo, the game will credit your account instantly and you can express your excitement in the Party room chat box with other players.
Enjoy and happy playing!