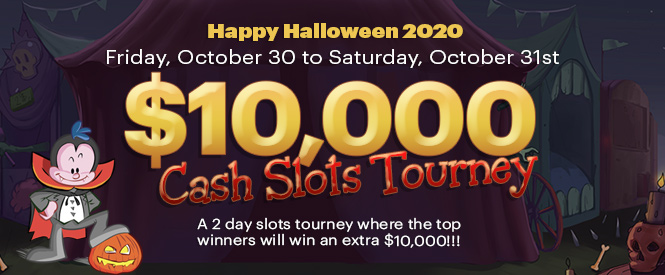 Cash Slots Tourney
$10,000 CASH SLOTS TOURNEY!
The HIGHEST PAYING 2 day slots tournament is here! Five players will hit it rich this weekend winning a CASH SLOTS TOURNAMENT worth $10,000 CASH!
$5,000 CASH for 1st place
$2,500 CASH for 2nd place
$1,000 CASH for 3rd place
$1,000 CASH for 4th place
$500 CASH for 5th place
How the Tournament Works:
The TWO DAY tournament starts on Friday Oct. 30 at 12:01pm ET and ends on Saturday October 31 at 11:59pm ET. The top 5 players with the most accumulated winnings will win the cash prizes!
There are plenty of chances to win big this weekend as this $10,000 SLOTS TOURNAMENT is on top of the weekend casino tournament. Follow the live leaderboard and see how close you are to winning the top prizes! Winners will be credited automatically on Sunday at midnight.
Current Leaderboard (October 30th - October 31st)
| Rank | Username | Winnings |
| --- | --- | --- |
| 1st | MexySexican | $89,711.95 |
| 2nd | CigiGirl(1) | $57,018.45 |
| 3rd | Reese55 | $31,786.16 |
| 4th | robjtj | $30,750.00 |
| 5th | Saperka59 | $28,373.40 |
| 6th | deborahw40 | $24,225.75 |
| 7th | Sonyak2000 | $23,041.88 |
| 8th | bingocrazi | $22,490.23 |
| 9th | roddystu | $21,052.35 |
| 10th | PsychNurse | $20,082.25 |
| 11th | ericatumbleson | $20,071.65 |
| 12th | TonyD | $19,186.69 |
| 13th | earlytina65 | $19,027.11 |
| 14th | Seltyck | $18,971.65 |
| 15th | weathered | $18,480.70 |
| 16th | lilshyste | $18,207.98 |
| 17th | HvacMike | $18,017.35 |
| 18th | Berry0226 | $17,324.20 |
| 19th | MurraysMom | $17,237.14 |
| 20th | SNADY | $17,231.80 |
| 21st | DGT | $16,364.16 |
| 22nd | 2020is4me2 | $15,853.57 |
| 23rd | MissGalahad | $15,082.13 |
| 24th | LadyGaggag | $14,459.90 |
| 25th | carole_psw | $12,753.90 |
| 26th | me2neither | $12,542.85 |
| 27th | Dawnabell | $12,064.20 |
| 28th | OLDHAMbone | $11,830.05 |
| 29th | TNWHISKEY | $11,748.70 |
| 30th | princess76 | $11,659.45 |
| 31st | bmhughes | $11,585.00 |
| 32nd | canon1 | $11,578.25 |
| 33rd | markdbolinger | $11,403.84 |
| 34th | Giving82260 | $10,698.60 |
| 35th | Bucsfan | $10,640.60 |
| 36th | klgray25 | $10,321.24 |
| 37th | jam78132 | $10,248.09 |
| 38th | frenzy | $9,864.50 |
| 39th | Eye4eye | $9,854.84 |
| 40th | portiapup | $9,800.65 |
| 41st | wackerlynn | $9,798.50 |
| 42nd | clawcat | $9,471.35 |
| 43rd | Stpeter98 | $9,442.95 |
| 44th | elmo502 | $9,366.67 |
| 45th | rachelme78 | $9,342.90 |
| 46th | onestarrgazer | $9,218.89 |
| 47th | Brutie | $9,088.75 |
| 48th | Jasmine15 | $9,078.17 |
| 49th | KaliGirl305 | $9,072.10 |
| 50th | GetBig107 | $9,041.30 |