On Sunday, April 21st, Bingo Mania is hosting a special $8,000,000 Bingo Tournament: 4 HOURS of NON-STOP HUGE PRIZES:
Hourly $1 Million Dollar Games (minimum $1,000)
$100,000 Coveralls
$500 Fixed Pots
$500 FREE Pots!
When:
Sunday, April 21st 8pm to 12am ET
Where:
Loony Bin Bingo Room
---
Bingo Tournaments
You are cordially invited to enjoy the fantastic Pack n' Line Bingo tournaments at BingoMania.
What are the new Bingo Games Tournaments at BingoMania like?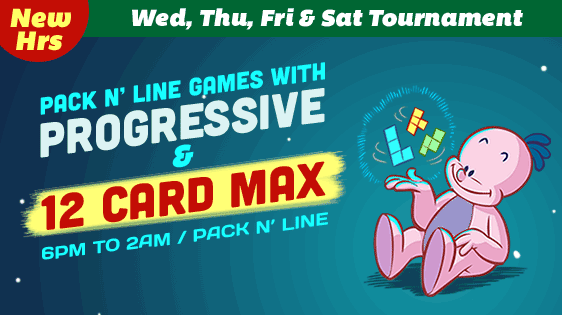 New Bingo Tournament
BingoMania is extending the popular Pack n' Line room. Now you get to enjoy this special room from Wednesday to Saturday in May.
When: Wed to Sat | 6pm to 2am EST
Room: Pack n' Line
Max cards: 12 cards max
Prizes: Starting $35 pots + wagers + PJP starting at $125
Bonus: Two special hourly Fair n' Square Games
Pre-buy: Yes you can pre-buy for any of these games
Why You Will Love This Tourney?
A special Pack n' Line Tourney Progressive Jackpot seeded at $125+
Low max card for better better bingo odds vs other players
Quick patterns like any line, 4 pack, 6 pack, 9 pack, etc.