Have you heard?
In addition to the new slot machines released last week, Bingo Mania just launched its first Arcade Slot Game called Sugar & Ice. Exciting!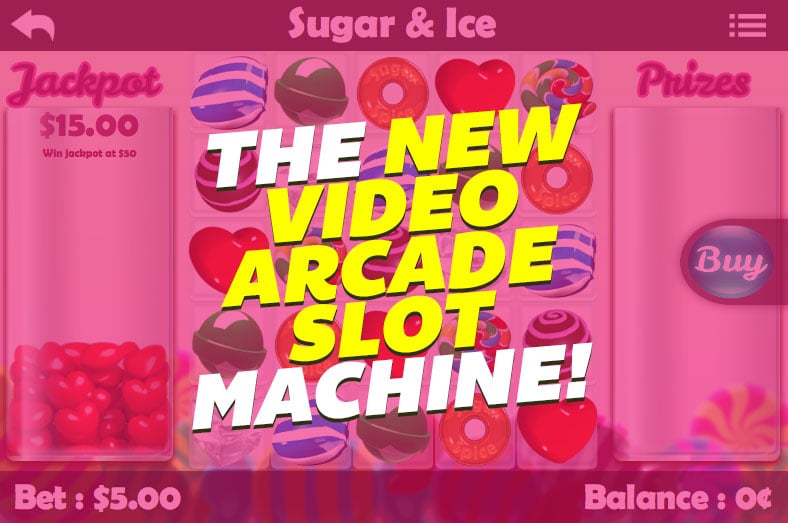 With all these new games, we might need to write a new post about the Must Play Slot games at BingoMania. Okay, back to the new exclusive game.
About Sugar & Ice
Is it an online slot machine or an arcade game?
Sugar and ICE is the first slots arcade game available at BingoMania and it's sure to be a hit! The maximum win is $50,000 and it seems you just never lose playing this game.
How To Play
It plays similar to other favorite games like Candy Mania and Candy Crush, but instead of having to match 3 or more candies you have to match 4 or more Sugar & ICE symbols. These symbols can be either candies or ICE.
If you need a little help matching the candies you may be lucky enough to get the WILD yellow candy wrapper. This wild wrapper replaces any candy or ICE symbol to complete the win combination.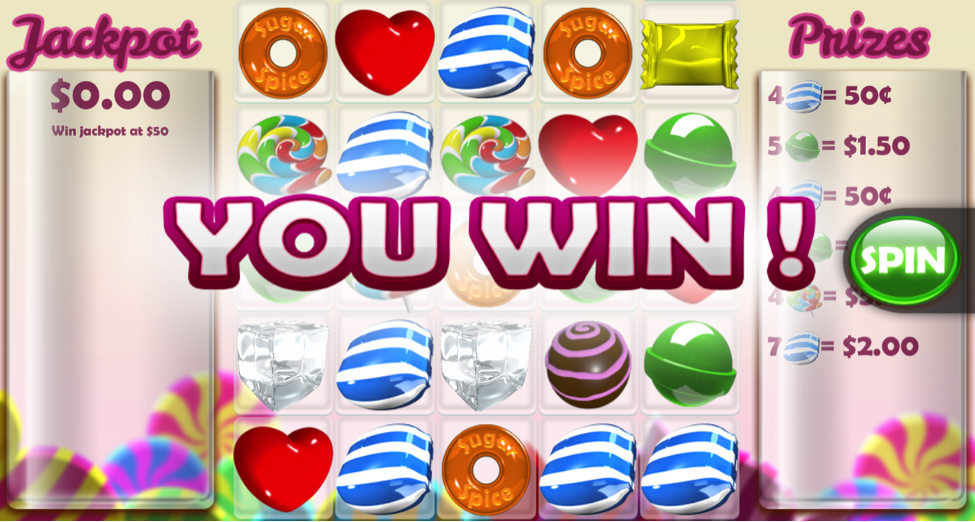 With typical video slot games, you spin once and you either win or lose (if you're lucky you'll get a scatter or bonus round). However, when you spin and win a combination playing Sugar & ICE, the winning combination disappears from the game board allowing for more candy and ice to fall from the top. If again match 4 or more of these candies you will continue to win and win until no more winning combinations remain. All this with just 1 spin!
Let's look at the Paytable
For example, if you're betting $5 and you match 8 twisted lollipops you will get a win of $500 (circled in red on the paytable image below).
How do you calculate this? Take your Bet amount, multiply it by the multiplier in the column of the number of candies you matched.
In this case, it would be:
Your $5 bet X 100 multiplier (because you matched 8 twisted lollipops) = $500 WIN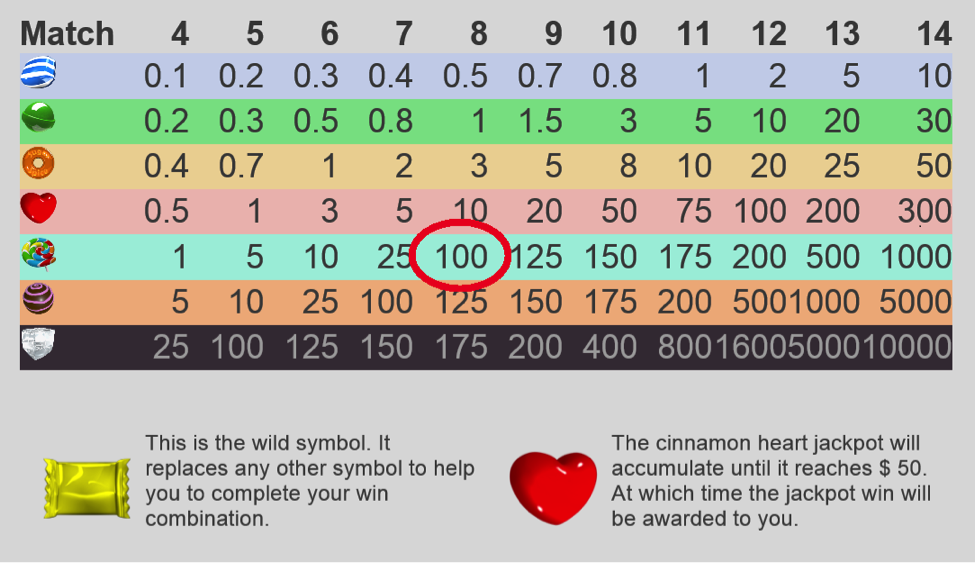 How to win the Jackpot
The jackpot starts at $0 and increases with every cinnamon heart you match in the game. When it reaches $50 the jackpot is awarded to you on top of all your winning prizes!
Limited-time game launch offer at Bingo Mania;
all depositing players will get a free $25 pre-loaded jackpot contribution when they play Sugar & ICE. This offer is only valid for a limited time and will be removed within a few days of this blog post.
Also remember, your Jackpot is your personal Jackpot. So be sure to log back into Sugar & Ice to ensure you unlock the $50 cash prize.
HOT TIP!
The ICE symbol pays out the most and gives the max win of $50,000. So make sure you're playing the $5 bet to have the chance to win the BIG prize!
As you can see now, you have more games and activities alongside your bingo games.
Bingo Mania blog special promotion!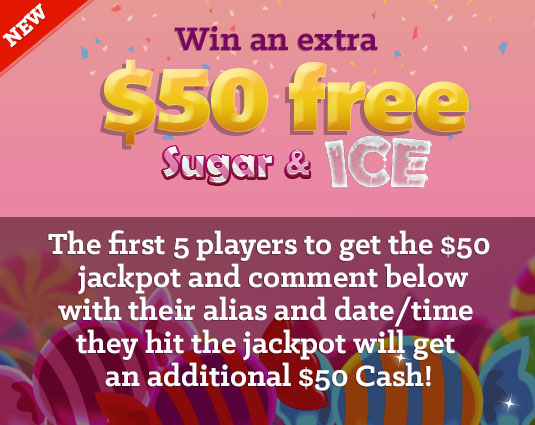 The first 5 players to get the $50 jackpot and comment below with their alias and date/time they hit the jackpot will get an additional $50 Cash!