Bingo Palace
How does Bingopalace measure up against other US & Canadian Bingo Sites?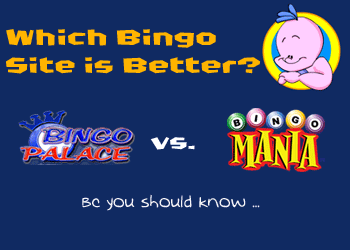 In recent years, bingo lovers in the US and Canada might not have the same quantity of bingo sites to choose from as before, but fortunately, the top and most reputable bingo sites such as Bingo Palace and Bingo Mania are around.
Today, we take look at another long-standing bingo site – BingoPalace.com and see how this competitor measures up against Bingo Mania, the top voted bingo site of the year. Here's everything you want to know about Bingo Palace to decide if this is the site for you
Free Bonus Offers from BingoPalace
As of writing, BingoPalace offers 300% free bonus on your first deposit and Bingo Mania offers a juicy 500% free bonus.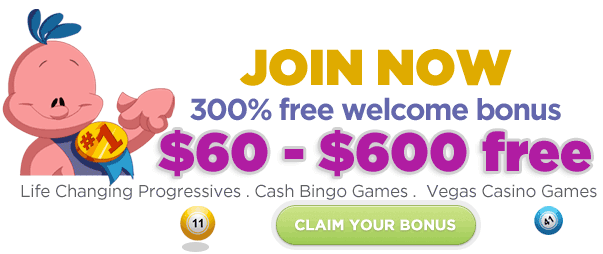 Reload Bonus
You'll find good bonuses at Palace, but once again, you'll get more bang when you play at BingoMania.
The starting bonus is 25% on your deposits, while at Mania, you'll get 50% minimum.
BingoPalace Chat
Bingo palace.com offers their members up to 50% of their deposit in chat bonus qualifications. And once again Mania outshines Palace in this department as you get up to 100% in chat bonuses on top of your deposits. Plus you'll find amazing daily free bonus specials at Mania – giving new players an opportunity to reap the perks of established players on their deposits
Minimum Deposit
It's cost less to play at Mania vs. Bingo Palace – at Palace, the minimum deposit is $25 while here it's only $20. That adds up over time.
Software
Both bingo sites are powered by the Parlay Entertainment software; however, Bingo Palace has an older version, so the game options and graphics are not as rich and exciting as the games you'll find on Bingo Mania.
Bingo Palace Promotions
We think Bingo Palace does a good job overall with their promo lineup. You'll always find at least one new promo per month – specifically themed around that month's main calendar month event.
This is important – since the game you love is entertainment value and playing the same promos month after month can turn dull very quickly.
So kudos to the Palace team for keeping their themes fresh.
We share a similar philosophy here at Bingo Mania as you'll get 2 to 3 new promos each month with fantastic prize payouts.
Three Key Differences Between Bingo Palace vs. Mania
Our Belief ?
At Bingo Mania we believe you should have more chances to Bingo – so everything we do is catered to that promise. From our fantastic free deposit bonuses to our Fair n' Square Bingo Tournaments and periodic no lose bingo specials.
Bingo is better with friends ?
Bingo is also better with friends and we believe when you play with friends you can further enhance your experience playing online bingo games. That's why you'll find buddy up feature games at Mania and private room concepts to help you organize games with your closest friends.
Mania outshines BingoPalace
Besides our strong and clear purpose – here are some facts that highlight that although Palace is a good bingo site, you get simply more from BingoMania:
Biggest Guaranteed Bingo Games in Online Bingo
Over $5 Million in monthly cash prizes
Fantastic Free Bonus Offers
Strong and Vibrant online community
More exciting and easy to win Progressive Jackpots
Home of North America's single biggest payout win $130,000
Not part of any network*
*Bingo Palace also runs the following sites:
Bingo Vega
Bigtime Bingo
Online Bingo
That means, most of the bingo rooms on Bingopalace.com are connected with their sister sites.
At Bingo Mania, you play with members on Bingo Mania – this way you have the peace of mind, that you're always playing amongst friends.
There you have it, considering Bingo Palace – well they're a good site and we have respect for any competitor that stands the time as they have. However, when it comes to measuring quality and value, no site, not even Bingo Palace comes close.