Chat Game Rules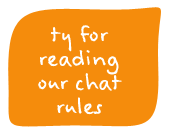 Page Last Updated: May 15, 2018
We love spoiling our Bingo Maniacs (that's you) with extended playtime and more ways to win. In addition to your daily free bonus specials, you can take part in BingoMania's exciting chat games and win Chat bonuses to further extend your playtime and odds.
We want you and your fellow roomies to enjoy your chat game experience at BingoMania. To achieve this, we kindly ask you to respect our simple chat rules:
Chat games are offered for your chat time enjoyment and not intended to replace deposits. Therefore, a player cannot receive chat bonuses in excess of the deposits made each month.
Chat game winners are in Bingo Bucks (comp) and not eligible for withdrawal.
To be able to participate in chat games and win BBS please remember that you must have made a deposit into your player account within the past 10 days and have purchased cards for the current game.
Players must have entered chat by the 3rd call of the current game playing in order to be eligible to receive chatgames bbs should they be one of the nabors or winners. Players also must reply to the GM by the 10th call of the next game to be awarded BBs from the previous game if they were a nabor or winner, if no reply is received the BBs will be forfeited.
Players maintaining balance of $500 or more and have not funded within the 10 day period also qualify for the BBs due to cash balance on account.
Note: Non- funding players with $500 + balance, must deposit at least every 30 days.
Those found abusing the BB system will be subject to investigation, and possible barring from future chat games.
GM must be present for Bingo Bucks to be awarded. If the GM gets booted or is on a break, the chat game is suspended until he/she returns.
Complaining in chat is not permitted as it spoils the enjoyment for other players. If you have a concern that the GM cannot assist you with, please submit a helpdesk ticket or contact us toll-free at 8777-114947
Unless you are leaving chat, could you please help the GMs by keeping requests for recaps until the chat game changes at the top of the hour.
If you are going to be away from your keyboard for a short while, please let the GM know. If you know you will be gone for 15 minutes or more, we kindly ask you logout of chat. This makes it easier for the GM to correctly award BBs, especially in Nabors games. Please see our guideline about chat sitters.
Our GMs are there to help make your chat experience more enjoyable. Please show them the respect they deserve and remember that in all matters relating to chat, the GMs decision is final.
Although we have no minors in our chat rooms, some players are more easily offended or more reserved than others. With this in mind, we ask you not to use excessive innuendo or double entendres in chat.
Our chat has filters in place to keep it enjoyable for all concerned. Circumventing the chat filters by misspelling offensive words is as unacceptable as using the word in the first place and may lead to loss of chat privileges.
Players are not permitted to promote other websites, companies or products in chat.
In order to avoid causing offence, players are not permitted to use racial, sexual or religious slurs.
We kindly ask that you avoid discussing religion or politics as these can be sensitive issues.
Players must not harass, slander, abuse or threaten other players, including those playing out of chat.
Players must refrain from using vulgar, indecent or offensive language and should be considerate of other players.
Ladies, please refrain from discussing female problems when male members are in chat. Thank you.
If a regularly scheduled chat game cannot be played due to there being less than 3 players in the chat room, the GM on duty will change the chat game to compensate the amount of players. If a chat game needs to be changed, it is at the discretion of the GM whether to play the chat game for the entire hour or to change back to the regularly scheduled game when the required amount of players are in chat. Chat games follow a scheduled line up, but the scheduled games can be altered at the discretion of the chat GM.
You presence in chat indicates that you have read, understood and agreed to abide by these rules.
Ty for reading our chat rules
Chat Sitter Guideline
Players who do not purchase and take BBs from GM awarding them and not being in game and falsely accept the award are consirered "Chat sitters"
Chat sitter are also those players that sit in chat and not make any purchases and not participate in the game or conversations for 15 minutes or more – they can be ejected at GM discretion.
Auto-buy players can be ejected from chat after 2 attempts by the GM to award chat bonuses and player does not respond, or if they are not actively participating in chat game and/or conversation after 15 minutes, whichever comes first.
« Back to FAQ