Playing online games is fun and now that you can play free bingo practically on virtually any device, we thought we take one step back and highlight a few of today's leading free bingo sites.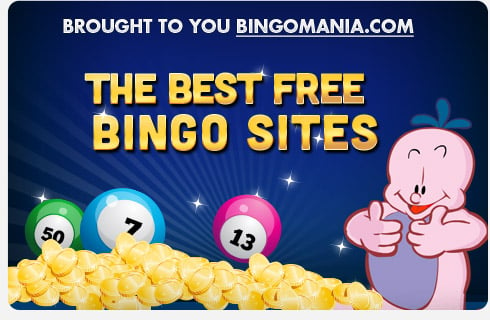 The following sites might have an app or not. That's not the focus. Simply, we want to highlight the communities that have shaped and continue to provide casual games on the web.
Some of the sites are 100% only bingo, while others offer a mix of free bingo games.
All of the listed sites are 100% free (meaning it costs you nothing to play with a few pro versions to play ad-free).
Tip! If you're looking for complimentary games but with the ability to win cash prizes, then we invite you to check out the BingoMania free bingo games.
Here we go …
Bingo Luau from Pogo
As long as we can remember, Pogo has been a top tier destination for free games online. They've been able to support free play through ads and now they have introduced "Club Pogo", a premium account where you play all the games you love but without annoying ads.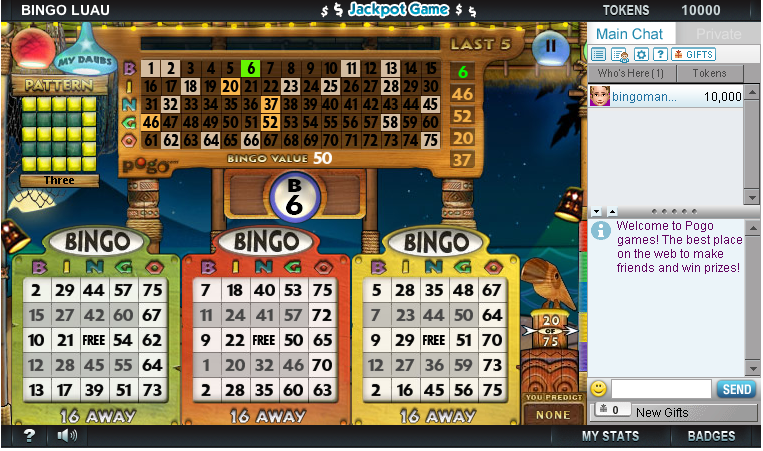 Seriously that's the biggest downfall of free sites. But at the end of the day, they're a business with real expenses to keep their games performing at their best.
Bingo Luau is a Hawaiian themed game with a relaxing tropical feel to it. It's a traditional bingo where you have to daub your numbers to match the bingo patterns.
As you know, like any bingo game, the main object is to "bingo" before your fellow players.
What we like about this game:
10,000 tokens on sign up
Gifting badges to share with your friends
Option to upgrade to add-free version
Series of challenges and albums to unlock
The relaxing sound of crashing waves while you play
At anyone time, you can find 500+ players playing this game spread across a slew of different chat rooms. If you're after a relaxing game, we think you'll enjoy this popular and classic game.
Our score: 7 out of 10
Slingo Bingo
The popularity of Slingo is no surprise but many players forget that the folks behind the popular game also offer 3 variety of free bingo online games over on Slingo.com.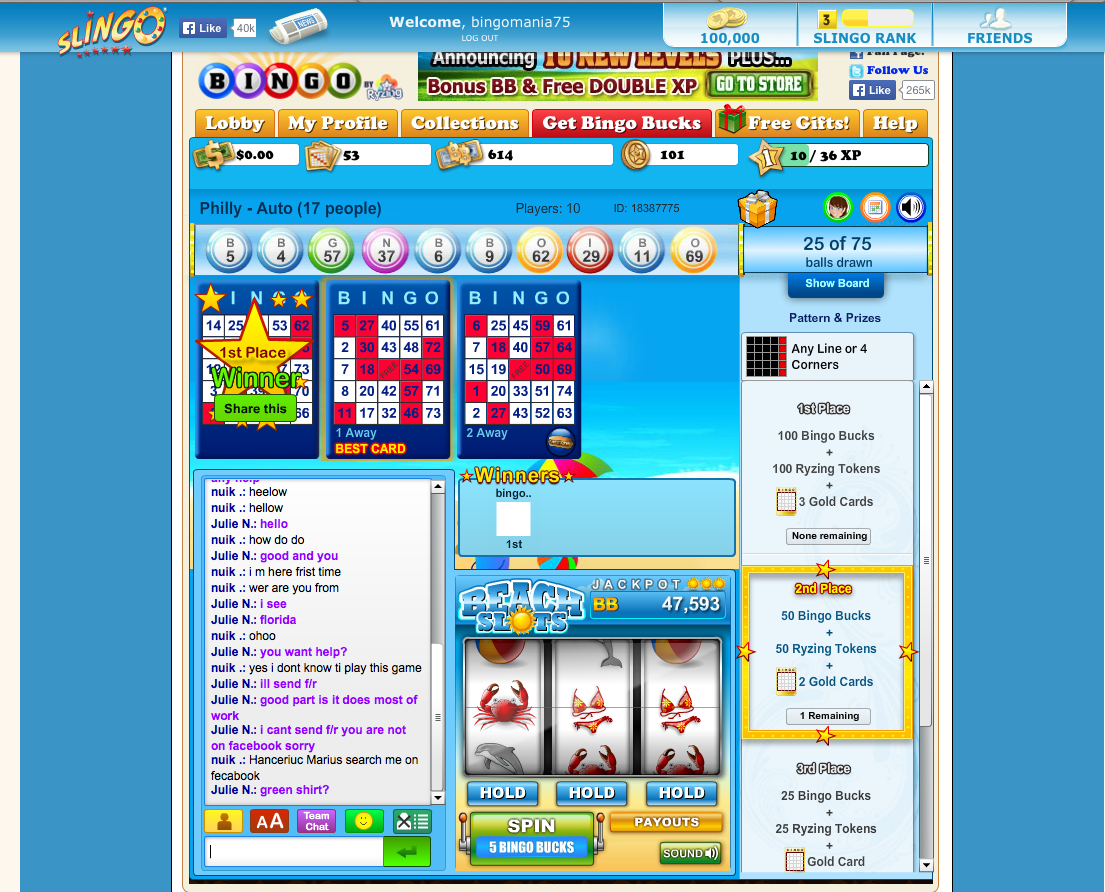 So many things to love about the games on this site. Here'a few of the key perks we really love:
You can win real cash prizes on certain free games throughout the day
Fantastic bonuses in the form of XP points & collections
Each room with its own series of badges & collection
Best card feature
Manual or auto-daub feature
Automatic card sorting to show your best cards and highlights how many calls your away for each card for 'Bingo!'
You can also:
Participate in chat
and play mini slots right inside the bingo room
Unique Perk: The Real Cash & Prize Rooms
You can play for real cash prizes in the following two rooms:
Treasure Hunt
Grand Gold Rush
The Bingo around the World rooms is great. As you move up the levels, you'll have the chance to unlock rooms based around the great cities of the World.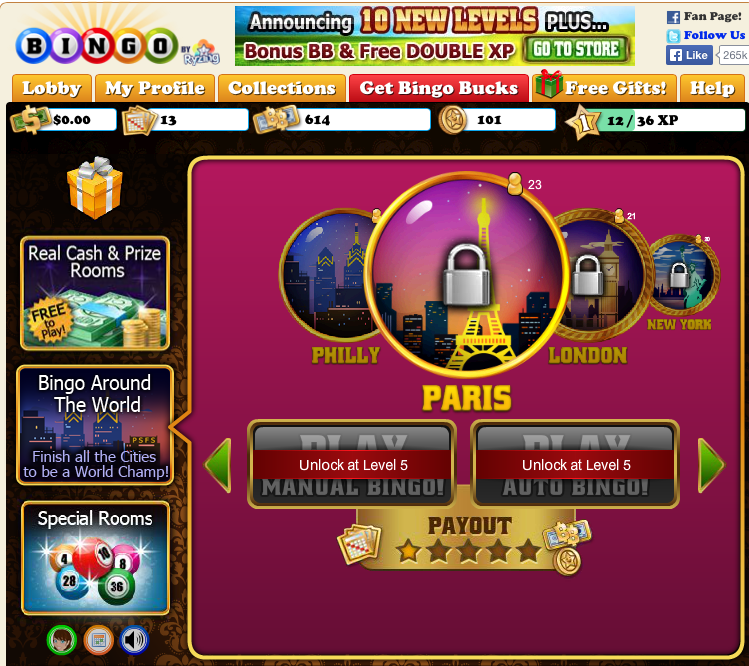 All in all, there are well over 50 different rooms. So variety is never in question. Our only reservation about Slingo's bingo games is that all the rooms have the same look and feel. Though the rooms have fun names, it doesn't spread into the actual game design.
If they can slowly upgrade their room skins, we believe it will add tons more to your excitement. Right now, it just feels like you're in the same room.
Our score: 7 out of 10
Three Eyed Bingo
Gamesville's Three-Eyed Bingo is a fun online free game. It's super simple. You simply play bingo and earn points for your activity as you daub.
You won't find any flashy or complicated point system unlike the other sites listed here. You just play 100% pure bingo. Our favorite game has to be the Three-Eyed bingo.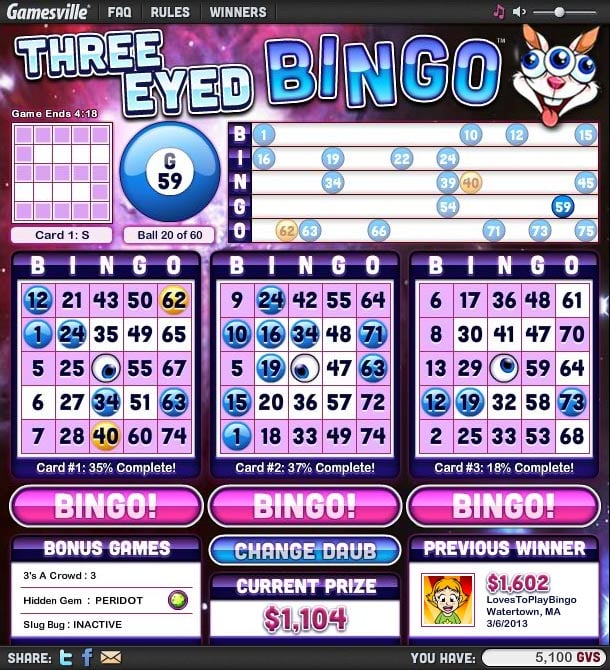 As they say, you really wish you had three eyes to keep track of the fast moving bingo game.
Here's how to play:
You get 3 cards per game
You'll need to manually daub your numbers (which you earn points)
The goal is to be the 1st player to match all 3 patterns using your 3 cards
For more, check out how to play three eyed bingo instructions.
Our score: 6 out of 10
Hey Bingo
HeyBingo.com has been around since 2001 and has always been a free site with one focus: free bingo games.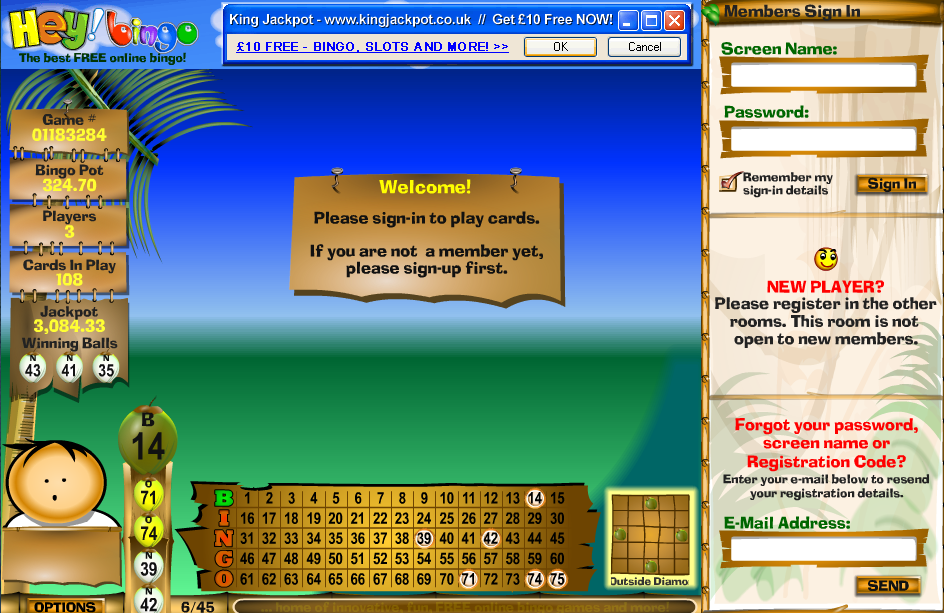 You'll find 3 different variation of bingo:
75 Ball
Spin-a-Bingo
and the British 90 Ball style
The object of HeyBingo games are simply to play, collect points and occasionally be able to exchange them for prizes.
Over the years their popularity has dwindled down a bit but you will still be able to find an exciting game throughout the week, specially during the evening hours when the traffic to their site is at its highest.
Our score: 5 out of 10
There you have it – a complete roundup of today's best free online bingo sites. Now it's your turn, which are your favorite free sites to play on?
Are there any other portal that we should highlight on this list? Help us make this the #1 listing for free online bingo games.
Play Free Bingo Games With BingoMania
Bingo is our obsession, our passion, our, well, mania! We love playing bingo in any of its forms and you can play a lot of them here on our website. It's a fun low-stress game that you can play anytime on any device that is connected to the internet. But do you have to pay for online bingo?
Absolutely not! There are ways to play free bingo games online. There are plenty of apps out there on the market that will run a quick bingo game for you, but you have to be careful about your games. There's a difference between free and free-to-play. Free-to-play apps offer a slick presentation of the game and the opportunity to buy bonuses to help you win more often. What they don't tell you is that they'll slowly ramp up the difficulty behind the scenes until you won't win anymore unless you start making purchases. Just read the reviews on some of the major bingo apps and you'll see what we mean!
At BingoMania, we have a better solution. We do offer free bingo cash prizes to all of our members. When you enroll on our site, we give you free money to purchase cards with as a special thank-you offer for signing up. You'll get the chance to try out our bingo rooms for free before you decide to spend any more money on your experience. We believe you'll like us so much that you'll want to stay!
In addition, every Tuesday, Thursday & Sunday from 8pm to 9pm ET, inside the Party Room, you get 1hr of $5 to $100 free cash bingo games. All players are welcome to enjoy.

And if you're lucky, you can win additional bonus cash. If your luck holds up you can continue to get free cash and extend your free bingo games. But wait, couldn't we do the same rigging that the other free-to-play apps do? NO! Our random number generator, the piece of software that makes our bingo games work, has been certified multiple times by trusted third parties with long experience in the gaming industry. You don't need powerups to win at our games, just good old-fashioned luck!
So if you've been burned by playing a free-to-play bingo app, come try out our tables instead. Sure, you may have to put in a little money every so often, but we think that the superior experience you get at our online bingo halls will be far more fun than any app you can find online. Sign up today, enjoy the bonus cash, and see for yourself why BingoMania has been in operation for nearly 20 years!